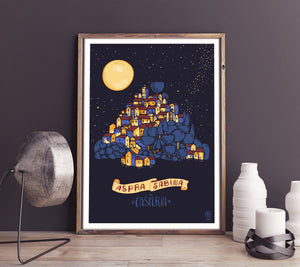 Little things that brings joy, like the village of Casperia under the full moon, in a starry night, with dancing fireflies all around.


Casperia is a small medieval Village in the Sabina, in centre Italy. A little treasure.
Details:
29,7 x 42 cm (A3)
Reproduction of the original illustration
printed on Fedrigoni Turner Gesso 300 gsm. Signed
Unframed and carefully packed to ship.
Frame not included.
First name
Last name
Submit
Account form fields
Data were successfully stored
Something went wrong, please try to store again
These fields can not be empty, must be checked, or have to be valid